This week I've been working on a few projects as part of my Pattern Stash contest challenge. I've finished two -- one that went together like a dream and that I absolutely love, and one that I finished reluctantly and haven't been able to rescue even with further alterations. Sigh. These are two OOPs, one understandably so...
Here is the great one:
New Look 6705
, a pattern that I've had for a good long while, and that I'd like to make all of the views from, except perhaps the longest jacket. I decided to make the skirt for my first try at this -- I like the high waist and the length of it. I had some olive green stretch suiting in my stash that I have no idea how or why I ever bought, but it seemed like a good choice for this one. I measured, and ending up cutting the 16 at waist and 18 at hips. While I prefer 14/16 as the maximum size, to soothe my vanity, I realized I should actually try to make this fit so that I didn't end up looking like I was stuffed into a sausage casing...
And what do you know? It fits beautifully. I am not sure if it's the higher waist, or the slight stretch, or what, but I didn't even change the length of the darts at the waist and it fits, perfectly. Right out of the package. Very strange... It was superbly easy to sew, and I did a lapped zip at the side which looks lovely; amazing how much easier zips are now that I've actually got a zipper foot.
But I put it on and immediately loved it. I hemmed it up an inch and kind of wish I'd given it only a narrow hem as the unhemmed length was very 30s, but I think it is still fine. It's very, very comfortable but I also feel dolled up in it! I already have another fabric in mind for my next try, which I want to make in August (once this contest thing is all done with...)
Full view for length -- not too flattering
but it was sooo windy!
Front view, with single darts
Back view, with double darts
Side view, with slit
And now on to admitting the failure...which I was sad about because I used the rest of the soft mustard knit that I'd used for
side panels of an earlier top
, which is so lovely, and I was looking forward to wearing it in its unaldulterated glory.
However. I used
McCalls 6822
, a "stitch and save" pattern with some basic variations on a t-shirt. I chose View B for the lovely back gathering: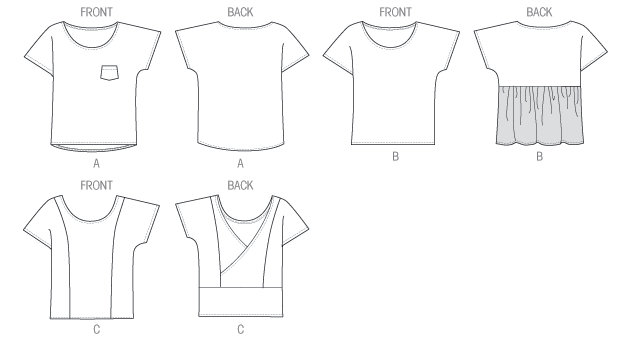 and I admit that the back of my shirt is quite nice, and close to what I'd pictured. But the front is a disaster! Maybe I should just walk around backwards all day.... I think I know why this pattern is out of print. Even accounting for the loose, drapey fit of the design, this shirt is ENORMOUS. I cut it in medium across the neck and shoulders and graded out to large at hips, which was completely unnecessary, as I ended up taking in 2 inches on each side in the end, and even that still didn't fix the issue.
Part of it could be my fabric choice, as it doesn't have much body of its own. I added a neckband but it didn't suit; the fabric gathered up oddly and looks all wrinkly. Plus there were these strange little puckers in the underarm region where the straight front met the gathered back seam. Even stitching it to narrow the sides didn't eliminate them. Argh. I feel like I'm wearing a cleaning rag. Oh well. You win some, you wad some.
Anyhow, at least I found one wonderful pattern that I'll keep and make again, and found out that I have one pattern that I will not be using again!