I took a step away from some dressmaking this week to sew up a nice, easy summer top. I thought I needed something casual and cool and non-knit.
Green as the garden!
I wanted to use a set of charming IKEA pillowcases that I picked up while thrifting -- I loved the spotty green print! These pillowcase were sewn together with the fold at the end, not the side, though, so when I deconstructed them, I was left with two long strips of narrow fabric. Hmmm, what to do?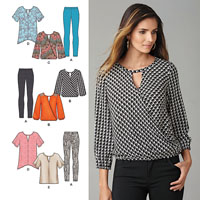 I bought this pattern originally for the crossover blousy view, but when I looked closely, View E had a centre front and centre back seam, with easy cut-on sleeves. Perfect! I laid out all 2 pieces on the fabric and saw that it would fit with some tiny adjustments to the sleeve length. Which was perfect since I had to both shorten the sleeve to make it more proportional to my short arms anyhow, and take a half-inch out of both centre front and back (on the pattern piece -- grading from the neckline down to nothing at the bust line. I needed to take in an inch in total) I cut a Medium, but after all my alterations I did wonder if I just should have cut a small to begin with and just grade out to medium at the hip!
excuse the creasing, it was at the end of the day!
The only other catch was that I didn't have enough fabric to cut a bias strip to bind the neckline. I really did want to use the same fabric for the binding, especially to cross the v-neck opening, as I thought it would look better than a contrast fabric. So I carefully cut some bias binding out of the narrow 4" strip remaining at the bottom of the fabric after I cut the front piece out. I should have taken a picture of the wild twistiness of the fabric tube when it was all pinned together -- warning, try not to use long and narrow pieces of fabric to make bias binding, it gets a bit crazy! But it did work out and from just one piece of the four strips left over, I had plenty of binding to finish off the neck.
That was the only other "oops", actually. I forgot that I'd taken out an inch in the front and back and merrily sewed away, not realizing that the V opening at the front allowed me to expand and find room to stitch it all on...but when I tried it on and the V was sitting at its natural width, I had a big "U" of binding poking out in the opening. Ah ha, there's the missing 2 inches! For a second I despaired, thinking I'd have to pick off all the binding and redo it...so much for my easy sew. But then I decided to just fold down the excess to one side and hold it by stitching a button through all layers. I think it looks like the binding is supposed to button on one side of the neck opening now.
Button at the neck. See the line of the top with the cut-on sleeve;
it's very nice to wear
The only other thing I had to fix was just to take it in 1/2 " on each underarm & side seam. When I first wore it, it felt like I was wearing scrubs because it was so boxy; my own fault as I made it from cotton instead of the drapier fabric suggested in the pattern. So I took it in slightly to give it more shaping, and then folded up my finished sleeve hems and stitched them down again to shorten the sleeves a little more. I think that removed the feeling of scrubs.
It is an extremely light and airy top, that fits nicely and is really cool on a warm day. I am very pleased with it. I wore it today to do some farmer's marketing and stop in at a thrift store as well, and while it creased a little from sitting, it was otherwise a perfect wear. And just look what I discovered at the thrift store!