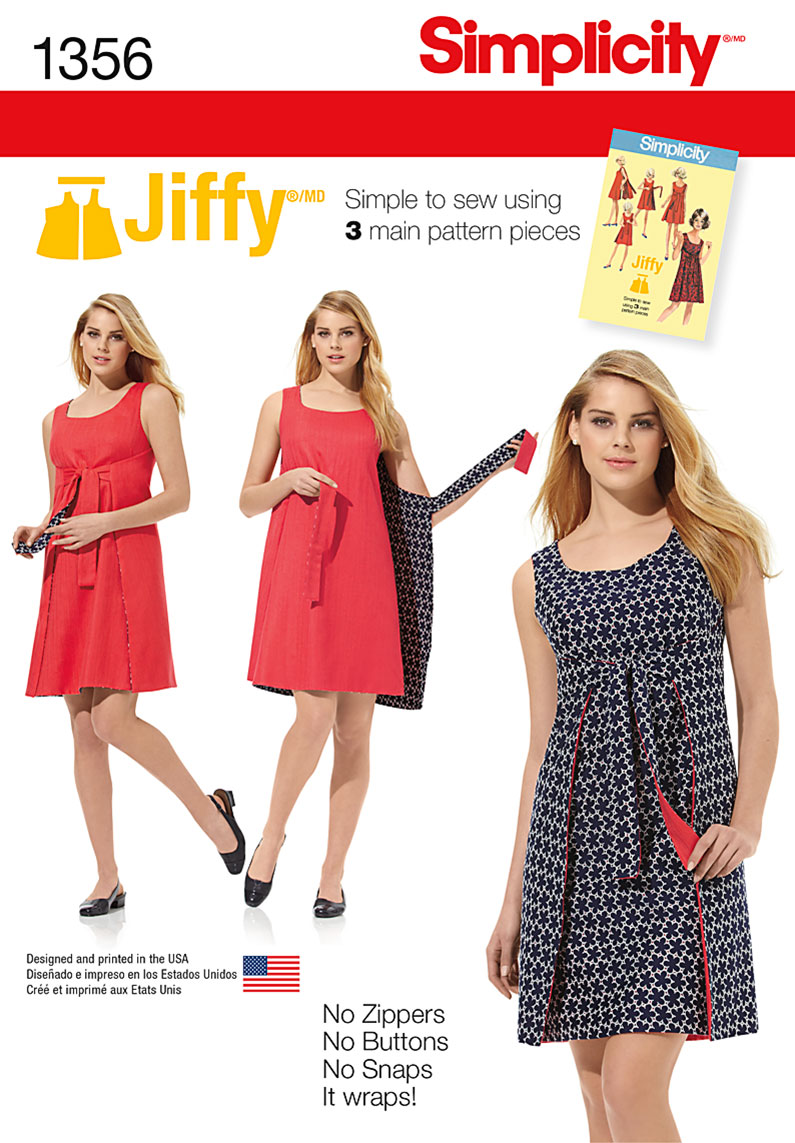 I have been working my way through a few dresses over the last few weeks. This one --
Simplicity 1356
-- was not on The List to make soon, but I got out some pink fabric to cut a lining for the skirt of another dress I'm working on (with fabric that was much too see-through for my comfort) and suddenly I was struck by inspiration.
I had tons of the pink fabric...in fact, it was a king-size Ikea cotton sheet that I picked up at the Goodwill recently. So I thought that it would great to trial this pattern.
This really was a Jiffy pattern; I was able to cut and sew it over the course of a couple of evenings. I was going to use a bright white sheet that had blue and pink stylized flowers for the other side, but my husband looked at it and suggested another one instead, that was a gentler contrast.
The second side (the floral one) was a surprise to me. I used it, thinking I would mostly wear it with the pink side anyhow. But when it was done, I loved the look of the floral side, and have worn it that side out far more often thus far. And strangers stop me to tell me what a pretty, spring-like dress I'm wearing ;)
It's funny how that happens -- when I bought the floral sheet originally, I thought it was a pretty retro look but a fabric I'd probably use for linings. I really like it in this dress though, even though I rarely wear things with a white/off-white base.
The first time I wore this new dress, I was at work. I wore the pink side out, and half-way through the day I nipped into the bathroom and flipped it to floral side out. Then I waited for people to notice. Small things, I tell you!
Anyhow, sewing details. It was very straightforward. I cut a size 16 on the top and added a bit of extra at the hip and below, which as it turned out was completely unnecessary and in fact means that there's a bit too much fabric in the area at which it's tied. A little too bulky. If I make it again I'm cutting a straight 16. Because there is too much fabric going around, the bottom fold over edges are also lower than the centre piece. It looks okay when I'm wearing it but next go around I'll try to eliminate the excess to make it nice and even.
The only other alteration I made was to add some extra width to the sleeve, trying to turn it into a cap sleeve, as I really don't like plain straps like the original. I was semi-successful. I curved the line from my shoulder extension a little too far back into the armhole, so my sleeve looks a little peaked. Again, next time I'll make the extension a little smoother so the sleeve is less angular.
But over all I really like this dress a lot more than I'd expected, having started it as an experiment. It feels cute and fun to wear. One thing to note is that when you walk, the skirt flaps do flow out a bit so the other side is clearly seen. So if you do make it, choose two fabrics that complement one another well, because you're going to be seeing both, no matter which side you're wearing facing out. I'd also suggest choosing lightweight fabrics, as the double layer could get heavy quickly if your fabric is too sturdy.
This dress is a bit of an outlier for me, seeing as I'm not a frequent wearer of hot pink or pale florals. But I like it. It is always fun to change things up a little, and this dress is a quick effort that gives a satisfying result.