One more dress finished and worn this May! I also cut this one out a month ago, but just got it sewn up last week. I love this bright and crazy fabric...I stalked it at the fabric store for at least a year until it was finally on sale and I decided to go for it :) It is a cotton sateen with a nice stretch; quite heavy and very amenable to taking the shape I wanted it to.
I knew I wanted to make
New Look 6299
when I first saw it. I like the shape of a dress that has no waist seam breaking up the line of the dress. Also I wanted to make something that was dependent on princess seams so that I could improve in my ability to sew them properly. I chose View A, with sleeves and collar. I hadn't even noticed until I got the pattern pieces out that View B & C have gored skirts. Hmmm, more ideas for later!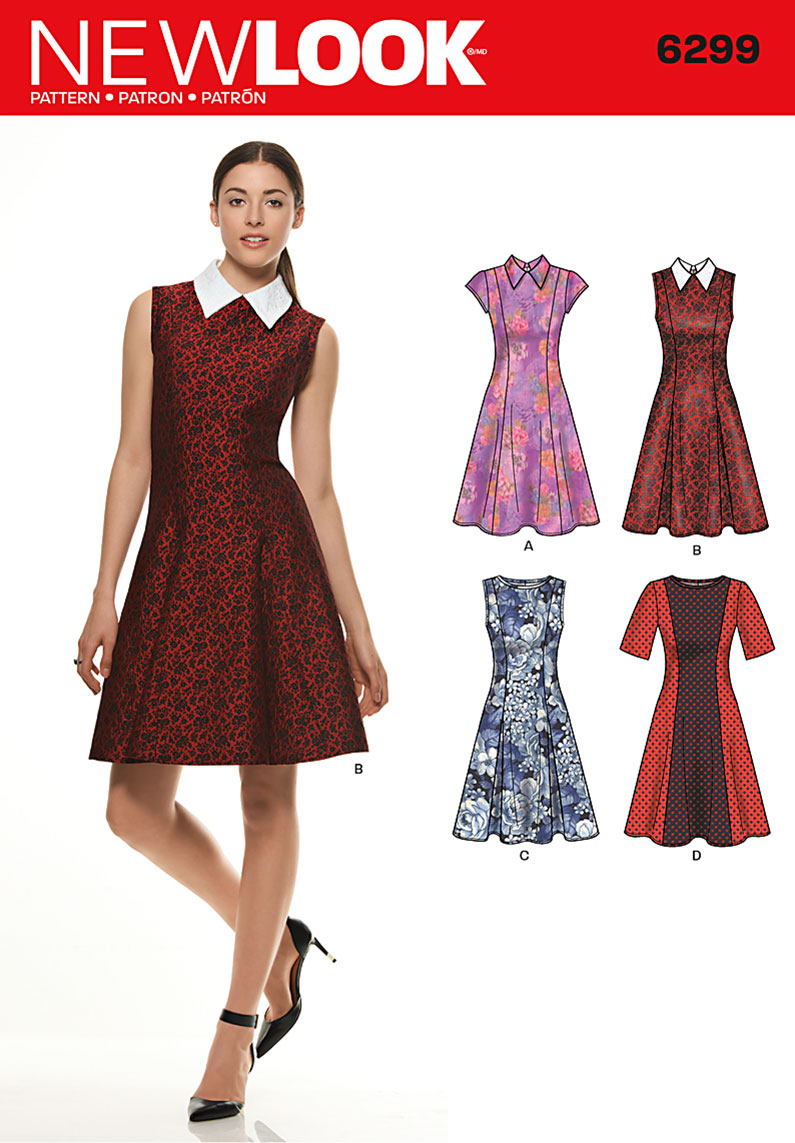 I adjusted the paper pattern pre-cutting with my regular above-waist shortening alterations, and also graded from a 14 at the neckline and upper shoulder to 16 across the bust and waist, to an 18 at the hips. I ended up taking in 1/2" along the bodice front princess seams, between shoulders and waist, and in the back I took the bodice princess seams in by 1" on each side. I'm not sure if it was the stretch of the fabric that necessitated so much taking in, or the weight, as the back sort of stuck out and sagged at the same time when there was too much fabric there. In any case, the princess seams do make for really easy adjustments. Once I'd taken them in I loved the way the bodice fit. The only thing I didn't do that I may do next time is to take a little bit of the length from the upper back (like 1/4 or 1/2 inch across the shoulderblades) as it puffs out a wee bit when I am standing normally, ie: with not perfect posture. But really, those are minor adjustments, as I love the way this dress fits now.
I decided on View A with the collar just to give this dress a little more interest. I like how high and large the collar is -- feels quite 60s. It has a button tab at the back that buttons over the top of the zip. I used a deep red button that matches the fabric well, but realized that it sits right above my yellow zipper pull, so might change it to a yellow button at some point. This is the first button hole I've made using my easy peasy new Janome buttonhole foot and wow, it really was easy. I was a bit nervous and made a few samples first, as I didn't want to ruin my collar -- not only was it a lot of work to get it made and attached, I also had no more fabric. I had squeezed the pieces for this pattern on to every inch of my long coveted fabric. So thankfully, no problems there.
I also love how the white flower ended up perfectly
centred at the neckline -- accidental serendipity
I also added side seam pockets, and ended up giving it just a small turned up hem as I liked the length as it was -- I had added a bit of length when cutting it out, I think an inch. It's very short on the model in the pattern picture, but I'm only 5"1' so simply by not shortening any skirt length it was already a lot longer than the original design ;)
I seem to be following quite a floral theme with my sewing this year. There's another in the queue that I hope to finish in the next couple of weeks that is also floral, so it looks like I'll have quite a bouquet of new dresses by the end of the summer.
What do you think of the floral trend? Is it for you? Or do you prefer other prints? Or maybe even... solids?