I've fallen behind in my
"Make A Garment A Month"
projects -- August and September have both disappeared with their respective makes still sitting in pieces on the "to do" pile...
But I jumped back in this month, with Sarah Liz's wonderful October theme, Opal. I love opals, and since they're my birthstone I can wear them without incurring any bad luck :) I have a beautiful sweater knit that I wanted to use for this month, as it's all blue and shiny white and opal-like...but instead, I couldn't resist making this new Vogue pattern from a red ponte knit that I've had in the stash for a while.
So I'm calling it October's Fire Opal dress!
I used
Vogue 9022
, a pattern that I ordered pretty quickly after it was released. I like the relaxed feel of it, and the cute pockets. I thought it would be a great work dress.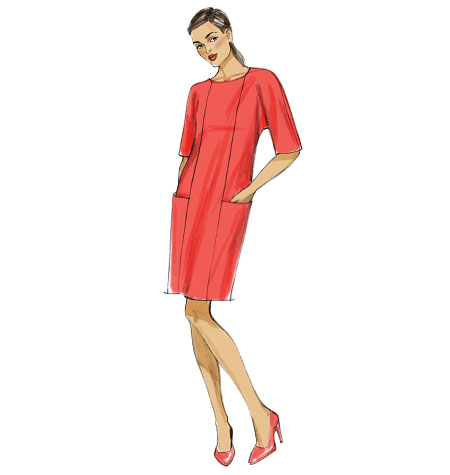 Once again, without even consciously realizing it, I've made a copy of the pattern cover. My dress is a similar solid red, although I could definitely see this one in a colour-blocked version. It also states that this can be made knit or woven; since I chose a knit, I left out the walking vent in the back as well as the keyhole opening at the back neck. Just stitched up that centre seam top to bottom -- I left in the seam, however, to assist with some shaping.
The making of it was easy. It's just basic straight seams, no set in sleeves, and some hems & facing. I did add in an extra inch to each side below the waist by grading out, since my pattern was a medium -- and while I'm generally medium on top, I'm large on bottom.
The only unusual bit is the pocket construction. The side panel is in two lengths, and you stitch together the bottom seam of the pocket and then fold that length over to form the pocket. Despite there being "fold lines" marked, I would strongly suggest that after folding these pieces you carefully measure both side panels to be sure that they are even -- you don't want to have to unpick one side after sewing everything and readjust it. Don't ask me how I know that.
Red dress outside on a beautiful fall day
There is no stitching to hold down the tops of the pockets -- I suppose you could top stitch them before continuing with construction if you wanted that look. As is, it is a loose, soft look that I quite like.
Overall I am pleased with this dress. The knit has enough weight that it doesn't cling, and the lines of the pocket seam and of the neck facing don't show through. I was going to switch the neck facing to a simple turned under neckline hem, but decided against it as I wanted a clean finish, and was worried about puckering at the neckline if I just stitched it down. You could probably also finish it with a neck binding if you preferred.
Feels good to be getting back into some fall sewing with this bright and comfortable dress.