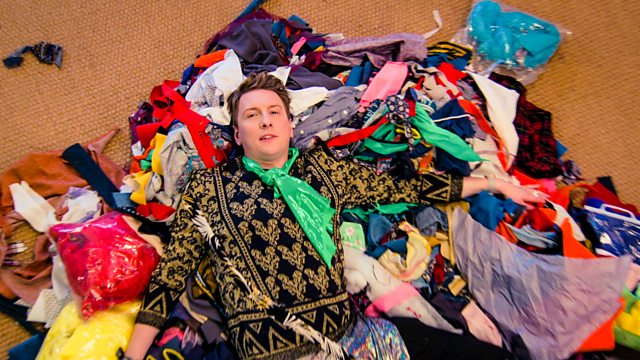 Great British Sewing Bee Week Five!
Reduce, Reuse & Recycle
... this was
my
week on the Great British Sewing Bee! I would have cleaned up. I make a lot of things from scraps, by reusing/refashioning other garments, and by using home decor fabrics to make clothes.
I really enjoyed this week, and seeing the ways in which people used their own offcuts to make something new and wearable. It was quite shocking how many scraps they'd created over the first five weeks of the show: as Patrick said, home sewers waste about 30% of the fabric that they buy. Yikes!
I try to reduce the level of my scraps in many ways -- I use a lot of cotton in my garment sewing, which then goes into my quilting scrap buckets. And the dress weight fabrics go into my art quilt scrap pile! I like to use up bigger scraps in new projects for pocket bags, trims, bias, to cover buttons, as accents and so on. You can also use the right kind of scraps to make brooches, badges, and so forth. Fortunately my city now has a textile recycling program, so the tiny bits and thread ends and so forth go into a big bag under my sewing table -- when it's full, off it goes to the recycling bins. Of course, you can also use those tiny bits as filler for a scrapbuster like the
Pouf from Closet Case Patterns!
Another way I try to reduce my fabric waste is through upcycling fabrics -- a lot of my stash has come from thrift stores (including lots of sheets, duvets, pillowcases etc.. or gifts from older sewers clearing their stashes.
Here are just a few of my garments made from old sheets, a pillowcase, and a purple duvet cover. I still have enough of that to make a matching dress if I want to ;)
There was also a dress made from a tablecloth with matching cape from a variety of dresses cut up and reassembled, which I made for a local Refashioning fashion show last year, and which was modelled by a friend. It was a lot of fun. (
You can see full info plus this outfit in motion in my original post.
)
I have lots of ideas to use up more of my scraps by making some pillow covers, and maybe a journal cover or two. Then of course I'll have to make a matching pencil case for the journals. If you want to use your dress weight fabrics for these kind of craft projects you can fuse them to some lightweight interfacing first, so that they act more like a cotton when you are piecing them all together. There are so many ways to reduce your waste. What are some of your favourite scrap busting/waste reduction projects?